Hello Everyone!
There are so many awesome companies! We are so lucky to have them to fuel our "crafty appetites!" They keep coming up new techniques and styles, as well as ways to re-work the tried and true.
So occasionally, I am going to post projects that feature products from a specific company. This first edition features
Hero Arts.
This company has been around pretty much since the get-go, but they keep evolving with the trends. If you have been making cards for very long, you likely have at least one of their stamps.
Recently (well recent for someone who has been crafting several decades) they have been making awesome monthly card kits. Unfortunately, they sell out sometimes within hours. Someone like me who doesn't need every theme or product is often out of luck because I don't get a subscription. They have been coming up with unique dies (paper layering for example) as well as the popular and often very realistic stamp layering sets.
This example features the Poppy Layering set. I will have all the products linked at the bottom in case you are interested!
This set is very forgiving, so you don't need a Misti Tool, but if you are mass-producing, it will come in handy! I masked off the leaves and flowers, stamped three layers of ink to each flower and added the black centers. I went over the black with a black Glaze Pen for some dimension and shine. I die cut the white panel and layered it on a card base. After adding the sentiment, I flicked gold paint on it, then added some clear drops to finish it off.
Here are links to other Hero Arts project posts:
Example 1
Example 2
Example 3
Example 4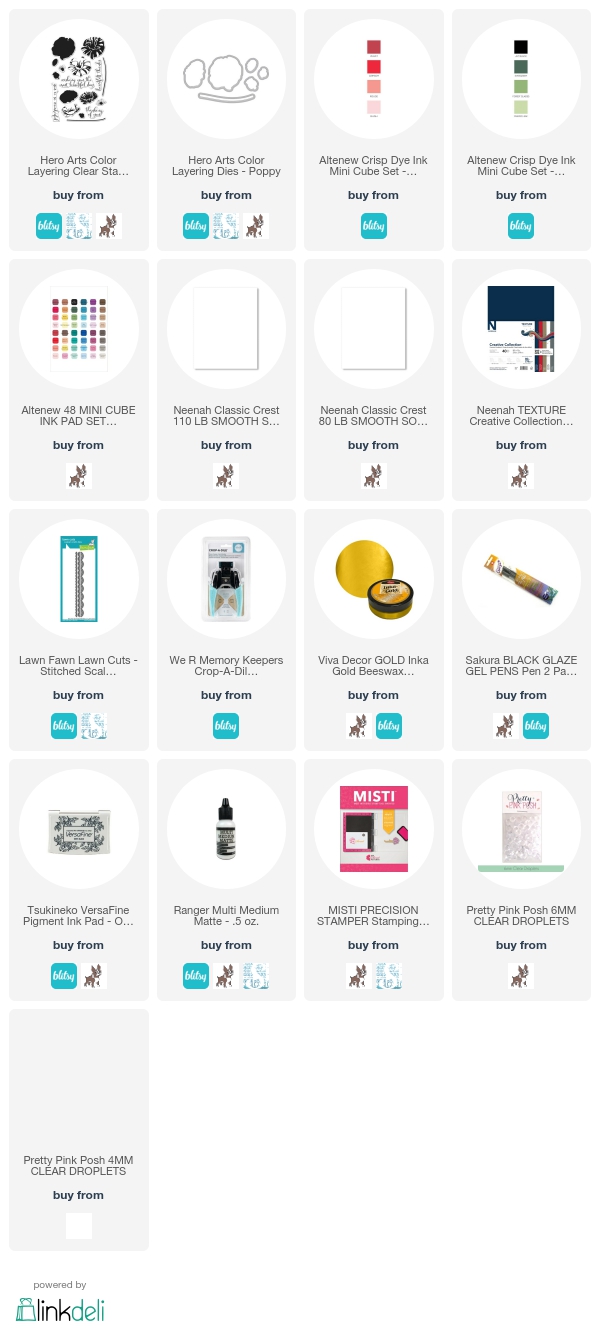 Until next time,
Gale